Office Profile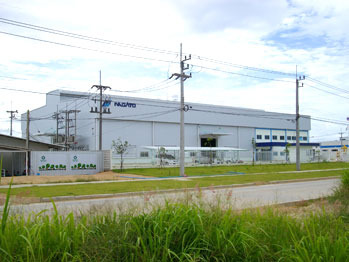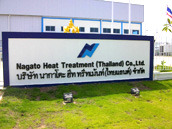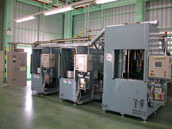 Nagato Heat Treatment (Thailand) Co., Ltd.
7 /379 Moo 6, Tambol Mabyangporn, Amphur Pluakdaeng, Rayong, Thailand
Tel. +66-(0)38-027-473  Fax. +66-(0)38-027-475
Business Contents
| | |
| --- | --- |
| Heat treatment of metallic materials | High frequency induction hardening |
Major Equipments
・Transistor inverter type high-frequency generator
・Vertical shifting type hardening equipment (Numerical control)
・Electrothermal type tempering furnace
・Testing equipment
Factory Profile
Feature
Nagato Heat Treatment (Thailand) Co., Ltd. has been established as the second overseas base of Nagato Co., Ltd.
We expand our business mainly by heat treatment of automobile parts, based on HF induction hardening processing technique and the skill that Nagato Co., Ltd. has accumulated for 50 years, and with the latest induction hardening equipments that have superior machine accuracy and energy efficiency.
The Specialty Process
・Carburizing hardening
・High frequency induction hardening
Major Products
・Automobile parts
・Construction machinery parts
Comment from the factory manager
Nagato Heat Treatment (Thailand) Co., Ltd. is the 10th factory of Nagato Co., Ltd.
The factory was established in May 2013 and we have started the business of induction hardening. We will install more equipments as "an all-round company of the heat treatment" three years later and plan to expand our business. We would like to meet the needs of new customers in Thailand, with introducing the induction hardening technology as the same level of Japan. You can count on us about induction hardening. Surely we will help you.
Traffic Access
Nagato Heat Treatment (Thailand) Co., Ltd.
7 /379 Moo 6, Tambol Mabyangporn, Amphur Pluakdaeng, Rayong, Thailand
Tel. +66-(0)38-027-473  Fax. +66-(0)38-027-475
From Bangkok about 114km
From Don Mueang International Airport about 142km
From Suvarnabhumi International Airport about 99km
From Laem Chabang Port about 27km
View Larger Map
Nagato Group's Office Profile

Nagato Co., Ltd. & Oozu Factory
3-6-24 Oozu, Minami-ku,
Hiroshima-shi, 732-0802, Japan
Tel. +81-(0)82-282-4361
Fax. +81-(0)82-282-4262

Kaita Factory
9-9 Tsukimi-machi, Kaita-cho, Aki-gun,
Hiroshima-ken, 736-0034, Japan
Tel. +81-(0)82-822-2957
Fax. +81-(0)82-822-7294

Numata Factory
2-23-1 ohzuka-nishi, , Asaminami-ku,
Hiroshima-shi, 731-3167, Japan
Tel. +81-(0)82-848-6021
Fax. +81-(0)82-848-6301

Shiwa Factory
190-1 Aza Fukasako, Kanmuri, Shiwa-cho,
Higashi-Hiroshima-shi, 739-0265, Japan
Tel. +81-(0)82-420-5511
Fax. +81-(0)82-420-5615

Kurose Factory
175-1 Ichiida, Kurose-cho,
Higashi-Hiroshima-shi, 739-2626, Japan
Tel. +81-(0)823-82-3068
Fax. +81-(0)823-82-3069

Hofu Factory
26-1 Shintukiji-cho, Hofu-shi,
Yamaguchi-ken, 747-0824, Japan
Tel. +81-(0)835-25-3737
Fax. +81-(0)835-25-8626

Tokai Factory
138 Kasuga, Takaoka-Shinmachi,
Toyota-shi, Aichi-ken, 473-0921, Japan
Tel. +81-(0)565-52-3631
Fax. +81-(0)565-53-4611

Kariya Factory
46-1 Shimonagare, Ichiriyama-cho,
Kariya-shi, Aichi-ken, 448-0002, Japan
Tel. +81-(0)566-35-0361
Fax. +81-(0)566-35-0362

Nagato Heat Treatment (Wuxi) Co., Ltd.
NO.5 7th Factory,NO.31 Tuanjie Middle Road,
Xishan Economic Development Zone,
Wuxi, Jiangsu Province, China
Tel. +86-(0)510-8826-7273
Fax. +86-(0)510-8826-7223

Nagato Heat Treatment (Thailand) Co., Ltd.
7 /379 Moo 6, Tambol Mabyangporn,
Amphur Pluakdaeng, Rayong, Thailand
Tel. +66-(0)38-027-473
Fax. +66-(0)38-027-475