Induction hardening
It is one of the heat treatment methods to harden the surface of an object but not the whole object. This method uses high frequency induction hardening. It is efficient since the necessary portion is hardened, and it is good to minimize thermal deformation rather than quenching throughout. This method is applied widely to machinery parts and automobile parts.
Principle
We apply HF current to heating coil which put around a part as shown in the figure,
and it causes eddy current on the surface of the part and is heated by electrical resistance.
Metallographic structure
Microstructure
Single shot induction hardening
We generally apply scanning HF induction hardening for a long workpiece. If the workpiece has portion of different diameters, heating and/or cooling will be excessive or insufficient.
Then we apply single shot HF induction hardening for the workpiece by optimizing the shape of the heating coil to the shape of the workpiece, it is possible to heat and cool the workpiece uniformly. It is also possible to minimize the deformation and to get the high strength because of disappearing the stripe pattern, so-called "barber's pole pattern." And we increase the production capacity by separating a heating unit and a cooling unit.
Video presentation of treatment
Submerged induction hardening
Apply the induction hardening in a liquid. This makes hardening the narrow internal diameter, thin wall parts and neighbouring areas of the hardened part possible which were said to be impossible because of the limitation on machines and difficulty of heating/cooling before. Plus, it can inhibit forming when hardening. We have records of hardening the inside diameter of a spline.
Comparison between submerged induction hardening and conventional induction hardening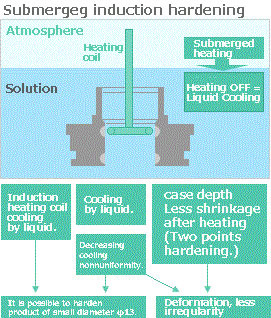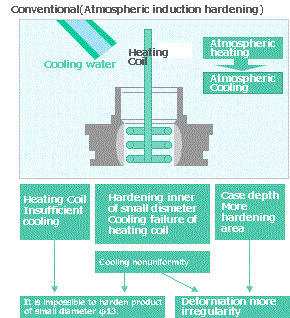 Non-oxidation induction hardening
In general induction hardening, because the scale (oxide film) occurs on the surface, polishing will be done in a later process, non-oxidation induction hardening can connect to reduction of production costs by reducing the scale forming on the surface to make omitting the polishing process possible.
Stationary type induction hardening
It is a heat treatment process that involves not moving a heating coil or workpieces.
Video presentation of treatment
Vertical movement type induction hardening
Vertical induction hardening is applied for the workpieces like round bars, we move a Induction heating coil or workpieces in a longitudinal direction and harden the workpieces.
Horizontal movement type induction hardening
This is applied for products that are going to be hardened on the flat surface mainly and they will be hardened moving the Induction heating coil / product horizontally.
Video presentation of treatment
Full automatic induction hardening
For products that will be treated a large amount like car parts which are all processed automatically including removal of the product to a hardening machine.
Video presentation of treatment
Full automatic induction hardening
(Turntable type)
Full automatic induction hardening
(Robotic detachable type)
Related equipment
The factroy is able to do

Nagato Co., Ltd. & Oozu Factory
3-6-24 Oozu, Minami-ku,
Hiroshima-shi, 732-0802, Japan
Tel. +81-(0)82-282-4361
Fax. +81-(0)82-282-4262

Kaita Factory
9-9 Tsukimi-machi, Kaita-cho, Aki-gun,
Hiroshima-ken, 736-0034, Japan
Tel. +81-(0)82-822-2957
Fax. +81-(0)82-822-7294

Numata Factory
2-23-1 ohzuka-nishi, , Asaminami-ku,
Hiroshima-shi, 731-3167, Japan
Tel. +81-(0)82-848-6021
Fax. +81-(0)82-848-6301

Shiwa Factory
190-1 Aza Fukasako, Kanmuri, Shiwa-cho,
Higashi-Hiroshima-shi, 739-0265, Japan
Tel. +81-(0)82-420-5511
Fax. +81-(0)82-420-5615

Tokai Factory
138 Kasuga, Takaoka-Shinmachi,
Toyota-shi, Aichi-ken, 473-0921, Japan
Tel. +81-(0)565-52-3631
Fax. +81-(0)565-53-4611

Hofu Factory
26-1 Shintukiji-cho, Hofu-shi,
Yamaguchi-ken, 747-0824, Japan
Tel. +81-(0)835-25-3737
Fax. +81-(0)835-25-8626

Nagato Heat Treatment (Wuxi) Co., Ltd.
NO.5 7th Factory,NO.31 Tuanjie Middle Road,
Xishan Economic Development Zone,
Wuxi, Jiangsu Province, China
Tel. +86-(0)510-8826-7273
Fax. +86-(0)510-8826-7223

Nagato Heat Treatment (Thailand) Co., Ltd.
7 /379 Moo 6, Tambol Mabyangporn,
Amphur Pluakdaeng, Rayong, Thailand
Tel. +66-(0)38-027-473
Fax. +66-(0)38-027-475
Induction hardening
Applicable equipment
Processing factory

Stationary type induction hardening

○
○
○
○
○
○
Vertical movement type induction hardening

Vertical movement type induction hardening machine
○
○
○
○
○
○
Horizontal movement type induction hardening
Horizontal movement type induction hardening machine
○
Full automatic induction hardening
Full automatic induction hardening machine
○
○
Single shot induction hardening
Single shot induction hardening machine
○
○
Submerged quenching
Submerged induction hardening machine
○
Non-oxidation quenching
Oil submerged induction hardening machine
○